Description
The Gelilan - Exclusive For Rolling A Torah Scroll
The Gelilan - an Exclusive Patent for rolling a Torah Scroll Advantages of The Gelilan:


Protects decorative table cloth.
Quick and effortless rolling by one Gabbai
Protects Torah Scroll: Parchment, letters and stitches.
The G'lilan is an unique patented product (patent no. 135191) appropriate for every Synagogue. The G'lilan allows one Gabbai to roll the Torah scroll all by himself. The G'lilan consists of
two aluminum tracks of 57 cm length by 14 cm [height].
The tracks are portable (not fixed to the bima).
Every track has two rollers decorated in a new Menorah design allowing the etz chaim rotate on these rollers.
Dark finish metal.
The rollers are easily stored under the Bimah when not in use. 
To roll the Torah all you have to do is stand in front of the Torah and roll it with your two hands (its possible also by one hand). The G'lilan protects the Torah scroll: Parchment, stitches, and letters which are frequently damaged by agressive rolling.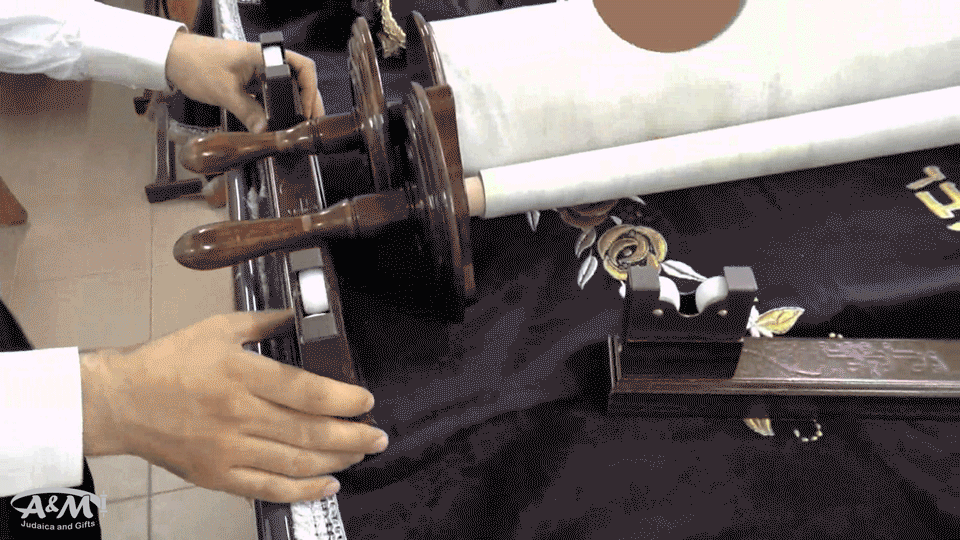 The Gelilan - Exclusive For Rolling A Torah Scroll
The Gelilan - Exclusive For Rolling A Torah Scroll
$349.00